Using applications on any device has become obvious nowadays. But have you ever thought about who would have created those applications and how? If ever you had this curiosity, then you are on the track to develop your skills as an engineer. But the answer to the question is still not clear. Here is what all you should know about the one who develops applications.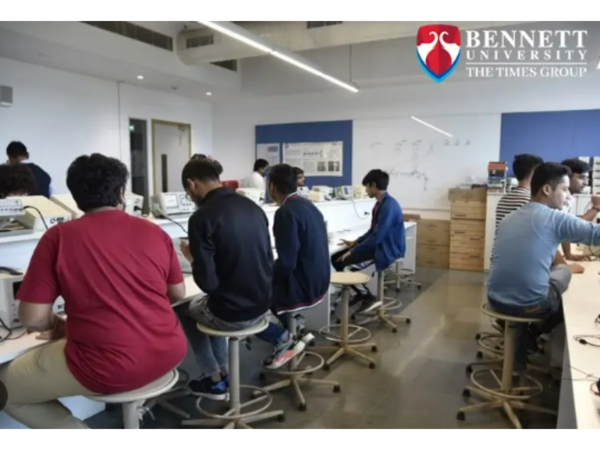 Who is a full-stack developer?
A full stack developer is the one who develops both the front end, (which includes all the features that are available to the client or the viewer at the site) and the back end of the web development. The developer is responsible for programming a browser, through JavaScript, Angular, etc and for programming a server by using PHP, Python, etc.
In simple words, a full stack developer is responsible for the creation of an application and takes care of things from its start to the finish, by designing the front end and backend of the app, thereby assuring its reliability, efficiency and other essential features.
Future of a full stack developer in India
If you completed your computer science engineering degree from a recognized university or school of computer science engineering and technology and want to explore the field of full stack development then you can start your journey. Every company has now its particular website, and some have its apps too, hence there is always a need for full-stack developers in the industry. He/she has a great future scope in India.
Here is why you should pursue full stack development as your career,
Enhances your technical skills – Making your career as a full stack developer, means working with the technology, which thereby enhances your logical and reasoning skills regularly. It supports you to be proficient in programming languages. Apart from making you an expert in programming languages like HTML, CSS, Javascript for the front end, PHP, Python, .Net or back end, and many more others, this profession brings the best out of you to make a better-updated version of yourself. One who knows a large number of programming languages can become a versatile fit for the job.
Pay scale – The pay scale of a full stack developer is good, and this job profile is considered to be one of the highest paying jobs in India, so this profession won't disappoint you based on your salary. Although the salary of a full stack developer varies on the experience, job location, and company size, a full stack developer can start his/her career at an average CTC of 9.5 LPA in India, while if you are an experienced person, then your salary could reach up to 16-20 LPA, which is worth their knowledge and experience of avoiding miscommunications and reducing operating costs.
Numerous opportunities – A person skilled with the qualities of a full stack developer has great opportunities in the future. He/she can work with a variety of technologies and are capable of handling multiple projects, in comparison to the regular programmer. With their vast knowledge of stacks, like MEAN, LAMP, etc, they can get many opportunities. Due to the reason that full stack developers easily fulfill the application development requirement, start-ups prefer them the specialist.
Job satisfaction – Due to the fact that full stack developers are expert and versatile in their work with extreme knowledge of technology, they have many benefits, and also experience great job satisfaction. Full stack developers are paid a high amount, which eventually makes their job a reliable and stable one. Apart from this, full stack developers have enough knowledge about their work and profession, they can easily get the job in their desired area.
Steady growth & huge demand – Today the world has become technology dependent, and the demand for full stack developers is on a high level and will keep on increasing in future. This profession would never go out of trend, till the time there is technology, there would always be a requirement for the full stack developer.
Start your journey as a full stack developer from Btech CSE at Bennett
Bennett University is considered one of the best engineering universities in India, due to its great state-of-art infrastructure, high-quality education, and learning methods. Bennett offers you demanding engineering courses, including Btech Computer science, that makes you professional for the industrial demands, by providing you opportunities to learn and grow.
Btech Computer science engineering program at Bennett, delivers education in the fields related to the latest technology, that includes topics, like, AI, Robotics, Machine Learning, IoT, Genetic Research, Bioinformatics, Big Data DevOps, Blockchain, Augmented & Virtual reality, Drones, Quantum Computing, Product Design Technology, Cyber Security, Full Stack, Cloud Computing, Automation, Gaming and more.
Btech CSE program of computer science at Bennett comes with 14 specializations, from which you can choose any of your interests. The specialization under Btech CSE are as follows:
Artificial Intelligence
Cloud Computing
Blockchain
Cyber Security
Data Science
Gaming
Robotic Process Automation
DevOps
Full Stack
Drones
Quantum Computing
IoT and Robotics
Augmented & Virtual Reality
Product Design Technology
With experienced and highly qualified faculty at Btech Computer science, the university helps you to learn and grow more by providing you the national as well as international exposure so that you can gain some experience by interacting directly with the industry experts, and understand the industrial demands.
Conclusion
Full stack developers have an overall good future, and if you are having the suitable skill sets and extreme knowledge about the programming languages, then you can enter into this field. Due to its high demand, and quality work, the profession of full stack developer comes with a high pay scale, and great job satisfaction, which supports you to be a better version of yourself.
Disclaimer: Content Produced by Bennett University