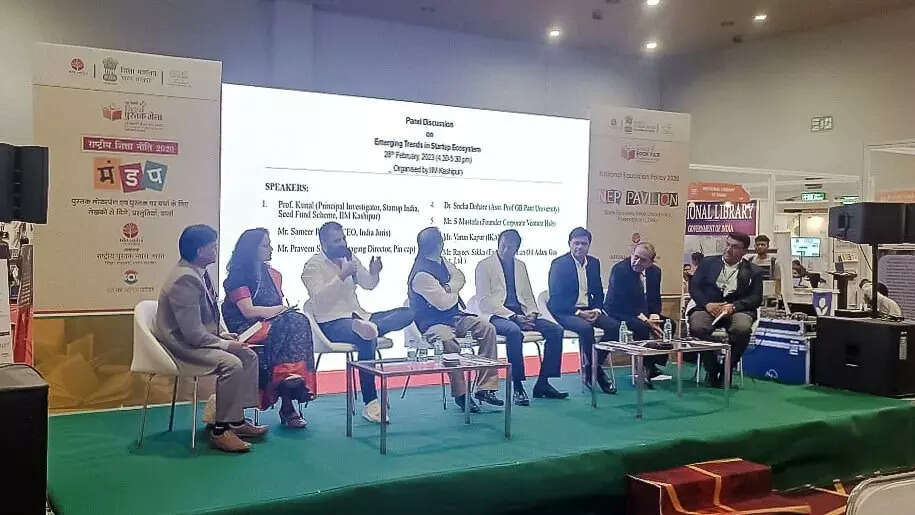 Rudrapur:
Indian Institute of Management (IIM) Kashipur is currently participating in the 31st edition of the New Delhi World Book Fair, which started on February 25 and will continue until March 5. The event is being held at Pragati Maidan, New Delhi, and has been organized by the National Book Trust in collaboration with the India Trade Promotion Organisation.
IIM Kashipur has set up its stall at Hall No. 4 (FF) at the NEP Pavilion, where it is exhibiting its flagship MBA and MBA (Analytics) programs. The institute is also showcasing its strength and success in start-ups and innovation in teaching by organizing panel discussions and seminars.
On February 28, IIM Kashipur organized a panel discussion on "Emerging Trends in Startup Ecosystem," where industry experts discussed the innovative practices adopted by startups, prospective investors, and recent trends in the field. Praveen Sinha, Managing Director of PinCap, highlighted the "Cockroach Strategy" that entrepreneurs should adopt, which is focused on perseverance and persuasion. The panel also discussed the importance of purpose and passion in the success of a startup.
Professor Kunal, Principal Investigator, Start-up India Seed Fund Scheme (SISFS) highlighted the advantages of being incubated at IIM Kashipur which provides seed funds mentorship, physical space (if required) along with support for the next round of funding by established VCs, Angel Investors and Companies with the dedicated fund.
IIM Kashipur also organized a seminar on "Changing Face of Executive Education" on March 2, which focused on the significant transition taking place in executive education to suit the strategic needs of the industry and business.
The physical edition of NDWBF is being held after two years due to the pandemic. With over a thousand publishers from 40-plus nations exhibiting their wares across nearly 2,000 stalls, the event has become a meeting place for book lovers and those involved in the teaching and education sphere.