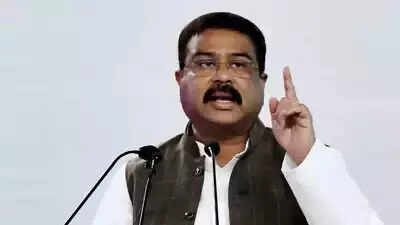 New Delhi: Union minister of education and skill development and entrepreneurship,
Dharmendra Pradhan
, held discussions with US secretary of commerce, Gina Raimondo, for forging stronger linkages between India and the US in the skilling sector on Thursday. Deliberations centred on creating lifelong learning opportunities of a large scale and deepening collaborations in 3S—Skilling, Start-ups and SMEs. Both the leaders agreed to strengthen institutional mechanisms for making the Indian skill ecosystem.
Stressing on the need to strengthen institutional mechanisms, Pradhan said that skills and competencies have become more important than degrees in today's times. Both also agreed that the size of India's workforce on one hand, and the size of opportunities in critical and emerging technologies in the US on the other, can be aligned for mutual benefit to both our countries.
Raimondo is in India on an official visit and will participate in the India – USA Commercial Dialogue and CEO Forum scheduled to be held on Friday to discuss cooperation in various sectors that could unlock new trade and investment opportunities between the two nations. Commercial Dialogue is a cooperative undertaking encompassing regular government-to-government meetings to be held in conjunction with private sector meetings.