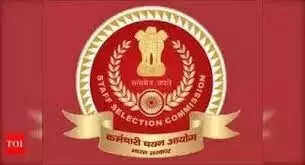 NEW DELHI
: The Staff Selection Commission conducts the Multi-Tasking (Non-Technical) Staff Examination for the recruitment of candidates for Group-C posts across various Ministries/ Departments/Offices of the Government of India and various Constitutional Bodies/ Statutory Bodies/ Tribunals, etc., in different States/Union Territories. This year, SSC will conduct the MTS 2023 in April. The exact date of the examination is yet to be announced by the commission.
With the minimum eligibility of the 10th pass (Matriculation), MTS witnesses a large number of applicants every year. However, only a handful of candidates clear this exam. It's not the syllabus that is exhausting but mostly the students are not able to understand that the exam requires a proper plan and strategy to excel in this recruitment exam.
Clearing SSC MTS Examination on the first attempt requires a well-designed and dedicated preparation strategy. Check out the most important examination strategies that can help your clear Multi Tasking Staff on the first attempt.
Exam Pattern
Prior to exam preparation, one should invest time in understanding the exam pattern and syllabus. Break down the syllabus such that each part get equal attention. It also helps in understanding the marks distribution and weightage.
Study Plan
Once the exam pattern is set, the next target should be to devise a study plan. The plan should be designed in such a manner that all the subjects get equal time.
Previous Year Question Paper
The best way to understand the exam pattern is through old question papers. You understand the type of questions that the examination authority asks in the examination and also get an idea as to how much time each section needs.
Mock Test
Generally, students find MTS questions to be easy but they are unable to solve the tricky questions in time. With the mock test, you get to experience different sets of questions.
Time Management
As said earlier, SSC MTS is more about a test of time management. Learn tricks and tips to solve questions in the shortest time. This will increase your chances of getting selected in the exam.
Stay Updated
If you are preparing for any government recruitment exam, make it a habit to read newspaper. This will help you stay updated with the current events happening around the globe. Also, keep a tab on the official website of SSC for the latest updates regarding the exam.
Work on Basics
Focus more on the basic concept and theories. It is important to learn new tricks but always be mindful of the fundamental concept and strategies.
Stay Motivated
The process is long and challenging, it is important that you stay motivated and focused. Do not let any negativity, or distraction come in the process.
SSC MTS is a test of your basic knowledge and time management skills. One needs to have a clear and concise plan to increase your chances of clearing this exam on the first attempt.